This is the second time I've written about this (first was back in March) and, since then, we've taken huge leaps forward together, and each on our own, as our little family continues to evolve.
On August 12, 2016, we (all of us!) officially marked our marriage and new family during a festive celebration at a family home on Orcas Island, WA, surrounded by family and friends* who made the trip to this unique and magical place.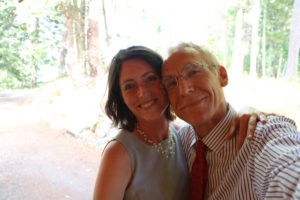 There are some things in life we can take credit for but there are others, arguably more astounding ones, that take care of themselves.
I first visited Orca's Island 18 years ago, while living in Seattle for the second time. Unforgettable, mostly because, in addition to its raw beauty, serene isolation and island mysticism, it marked me with a sense that it would play a role in my life. No way I could know that is would. Maybe I only willed it to be so. In any case, when I found myself on the island, again, all those years later, with our children by our side, well, the way that felt is challenging to transmit here.
Magic makes life real.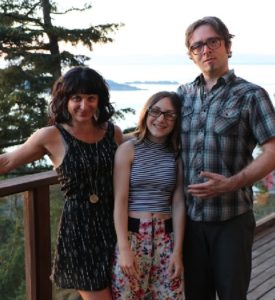 There is no way I could have known that I would find myself on Orcas, again, after all these years, after having made it through some less-than-awesome times, to emerge and welcome a new era and to celebrate it all in the midst of that place; a metaphor for returning to many things, actually, to a way of life, a way of doing things, with people who get it and who have seen it come full circle with their own eyes.
I admit I struggled to keep my composure all week long, for the sheer, astonishing and overwhelming level of gratitude that kept washing over me like waves on the shores where we all walked, talked and laughed together. Especially on the wedding day.
At the center of this? At the center of our amazing, blended, new world family? The beautiful and bright love of my life, my partner, my wife, the woman who is responsible for helping me realize and make real a true partnership built with love, trust, respect and emotional intelligence that is off-the-charts. She is the singular reason why I now know how such an intentional approach does much more than sustain each of us in our new family. Our own little culture nudges us forward, to personal growth and achievement on a scale we are only just beginning to discover. My love, my love is reserved for you. I am so grateful for you, there are simply no words.
To come to such a moment in such a place that touched me all those years ago is also challenging to describe as such a personally mythical thing. Let's just say I couldn't make this stuff up if I tried.
I write it down here for memory's sake and to say, again, how grateful I am.
Thank you, M, for believing and giving me so much love, a new family and a life like I have always dreamed of, and thank you D for so many things, especially being the light in my life you are, I love you and am so proud of you, and thanks to L, P and T, you three have added so much to D's and my life and we are so grateful for what's yet to come, and to W and A, thank you for welcoming D and I into your family and giving us your love and support – no small thing, to B, you are an inspiration to me and another great role model for D, we love you, and to J and N and V, you have held such a deep and special place in my heart for so long, one that gets a little deeper as the years go by, I love you and thank you for being here with us, and to D and S and A, because there is just no possible way I would be thinking or writing any of this – not without you – ten years ago to the day – who could have planned that??? From my heart to yours, from our wonderful new family to yours, thank you for being here with us – no small thing – and an extra special thanks to you, D, for your elegant and eloquent skill as a wedding chancellor, storyteller and master of ceremonies. Top notch, Grinch. The kids really dug it. Ten years from now? Same place, same reason to celebrate – our beautiful families!
I don't know what else to say, except, oh, funny life. Things sure have a funny way of working out when we are open to the world and all of the astounding possibilities. Here's to all the good things ahead for us all. Cheers.